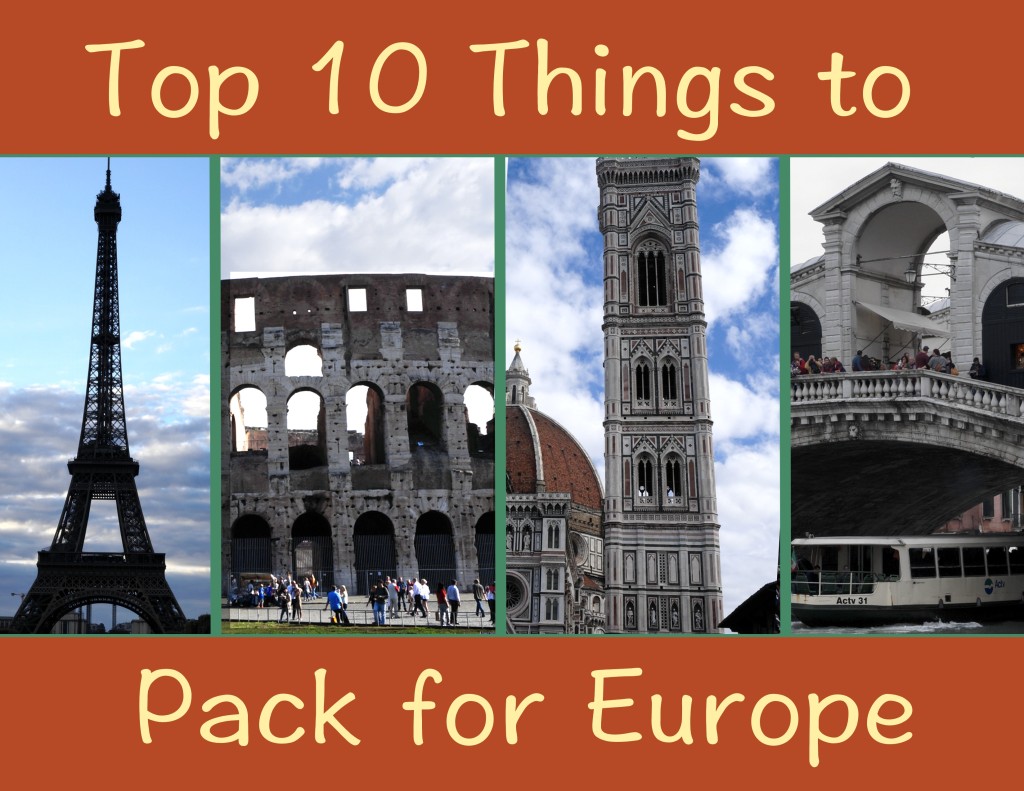 A friend of mine is currently having the time of her life in Paris, making me even more excited for our trip back later this year. On our first trip, we were set to hit four cities in 13 days and I wanted to be uber prepared so I could (try to) stress less and immerse myself more. Turns out, I did pack a few key items, and acquired some others along the way that helped make our trip comfortable, fun and even easy! As we look forward to our next European adventure, here is my list of the top ten items you should pack before your next big trip!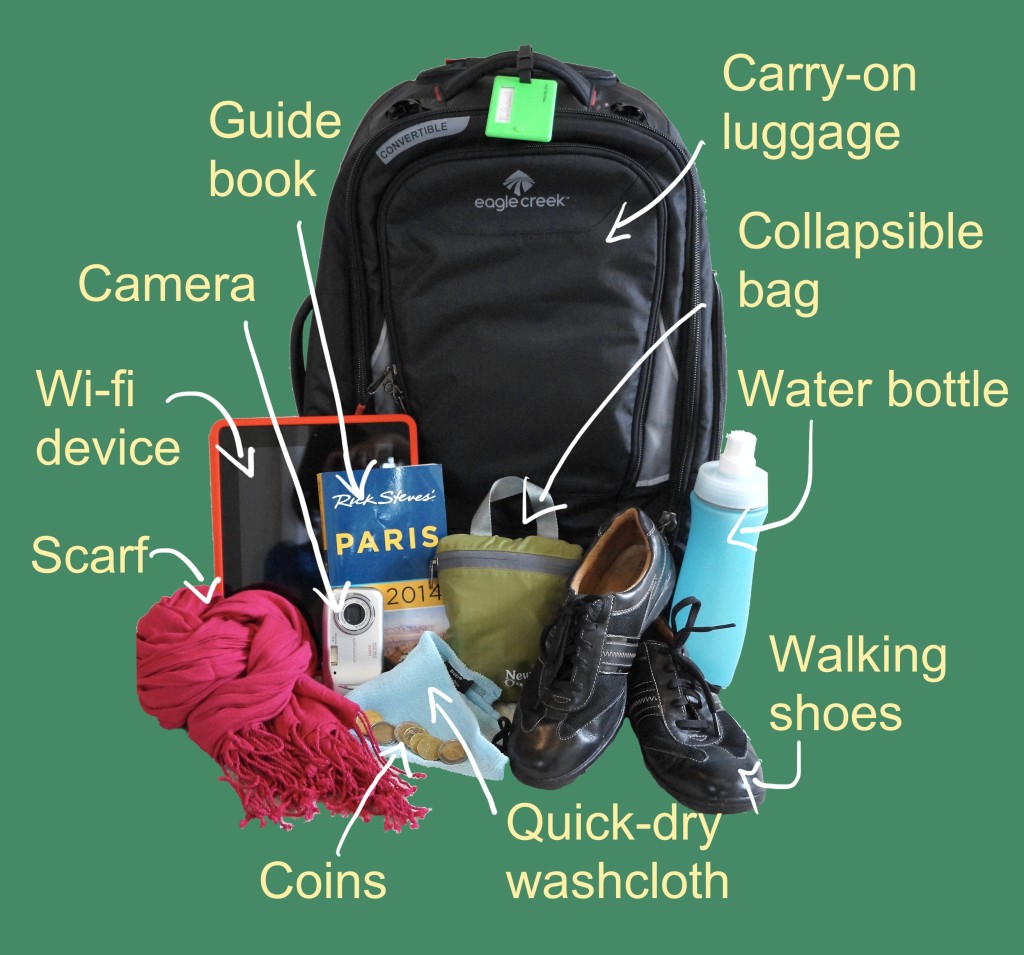 My Top 10 Europe Trip Packing Tips:
Good carry-on suitcase: No matter the length of your trip, you want to try to pack everything into one carry-on suitcase. While you might have to do laundry (or have it done by your hotel), you won't have to worry about losing luggage or trying to manage too many bags as you walk down a narrow busy alleyway to your hotel. One bag, with two sturdy wheels and good pockets, will help you get from point A to point B seamlessly. We bought convertible backpack carry-ons, but not once did we ever use the backpack functionality. Check baggage restrictions for each flight – we found one of our bags was still too big to carry onto an inter-Europe flight.
Collapsible bags: Since you ideally want to travel with carry-on luggage, you have to maximize for space, but what do you do with all of your souvenirs when you're wandering the city, and how the heck do you get them home? Before our trip, we purchased a collapsible backpack and tote bag that we could cram into any nook or cranny of our suitcase, but when we needed them,  could expand to provide us with extra baggage space. We used the backpack to carry jackets, maps and water bottles during days of sightseeing and used the tote bag to carry large souvenirs home safely.
Guide book: Some travelers like to be completely spontaneous abroad, however in order to get the most out of my trip, I looked to guide books and previous traveler reviews and advice. I absolutely love Rick Steves guide books. All the little nuances of when to go see certain sites, which entrances are less crowded, which sites are must-sees and which ones you can pass on, helped us immensely to plan ahead and maximize our time each day. I wouldn't travel to Europe without Rick, and neither should you.
Walking shoes: The best thing you can bring on a European vacation is a good pair of walking shoes. American tourists tend to be extra cautious about the shoes we wear in Europe since we hear that Europeans can point out Americans by their sneakers alone. Lies. We walked almost EVERYWHERE in Paris and across Italy, and let me tell you, I would have killed for a pair of sneakers. I kicked myself with my sore booted foot every time we stepped onto the metro and saw French men and women in sneakers. Europeans are more likely able to tell you're American by your accent and lost expression than what you're wearing on your feet, so what you have on might as well be comfortable!
Camera: If there was ever a time to take photos, it's on your European vacation. You cannot take a bad photo. Seriously, try pointing the camera in any direction when you're walking down the street in Paris – everywhere you look is scenic and just plain different than what you see at home. If you've been planning to upgrade your camera for a while, this is the occasion. Don't worry about looking like a tourist – remember, you stick out anyway with your funny American accent. Take photos so you can remember your adventures, and bring extra batteries/chargers/memory cards, too.
Scarves: The signature European fashion accessory is definitely the scarf. Men, women, children of all ages wear them in all colors, so casually, at all times of day, in all types of weather. It is so dang chic! Scarves are super easy to cram into even the fullest suitcase, and are a great way to stay a little warmer, dress a little fancier, or just look and feel a little more European. They're also good to have on hand in case you need to dress a little more modestly before entering a church or other religious site with a dress code.
Quick-dry washcloth: Apparently, washcloths are more of an American thing, so they are not often supplied by European hotels. It's definitely a personal preference, but I just wouldn't feel clean without one. They're not luxurious and they can be super thin, but they still lather up well and dry in a few hours. After we spent an entire day walking around Paris in the rain, I definitely appreciated a hot shower with mine.
Euros IN COINS: When out on a day trip to Versailles, we failed to bring change with us thinking euro cash or credit cards would do fine. Wrong! In order to purchase a return train ticket back to Paris using a ticket machine, we found out the hard way (along with all other Americans standing in line) that the machine took coins ONLY. Trust me on experience that the local shopkeepers get super pissed when you ask them to make change. Carry at least 10 euros in coins at all times – just in case!
Water bottle: Buying bottled water every day can be expensive. Instead, bring a water bottle that you can fill up at the hotel, museums, shopping malls, and sometimes even at old public water fountains you may find around the city (Italy has a number of old, decorative fountains for public drinking). You never know how water will taste from city to city, or how well a public water fountain is maintained, so we took Brita water bottles with built-in filters. Filtered water on the go!
Wi-fi enabled device: You might not want to pay out the nose for cell phone coverage in Europe, however I'd still bring one cell phone or tablet you can use with wi-fi in your hotel. We were glad when we found out our expected cell phone coverage didn't work because it gave us a chance to actually unplug and enjoy our trip. We did, however, find the wi-fi helpful in checking train schedules, looking up restaurant and museum hours, and finding directions to our next site. Instead of checking Facebook, get the most out of your vacation by using the internet as a tool for just a few minutes, then getting back to your trip!
And bonus existential item you definitely need to bring: 
General awareness and respect of other cultures: The most important thing to remember is, no matter how hard you try, you are a foreigner in a foreign country, a tourist. As long as you are polite and respect the local laws and culture, you'll be treated well by the native people you encounter. Mostly, this means refrain from being too loud and drawing too much attention to yourself. It also doesn't hurt to learn a few basic phrases in the native language (good morning, good evening, please, thank you, where is the bathroom, etc.). We found that a little effort can go a long way in getting someone to help you.
This doesn't mean you can let your guard down. Unfortunately, some of the stories you hear about pickpockets and swindled tourists are true. You can, however, make yourself less of a target (and trust me, once you realize this, you'll be able to point out those people who make good ones):
Carry your personal items securely and close to your body. Carry items in a slash-proof purse (I do), in interior or zippered jacket pockets, or if you absolutely feel like you must, use a money belt. Keep things out of your pants pockets for the most part – thieves are way too good at getting in there.
Try to avoid using ATMs or use ones that look and feel secure. We used an ATM in a Venice alley that ended up being rigged with a card reader and camera to catch our pin number. Make sure to tell your bank the specific dates you'll be traveling so they can help keep an eye on your account. We tried to use our credit card as much as possible.
Trust yourself, first. If you think something smells fishy – a price is too high or too low – that designer bag looks fake – this guy is being super creepy – then go with your gut. Unfortunately, there are people out there who target tourists for all sorts of scams. Not everyone you encounter on the street is out to get you, but definitely trust yourself if you feel uncomfortable.
And finally, always be aware of your surroundings, your belongings and keep an eye on your fellow travelers, just like they should do for you. Keep your wits about you and enjoy yourself!
Most importantly, have fun because, duh, you're in Europe! Bon voyage!