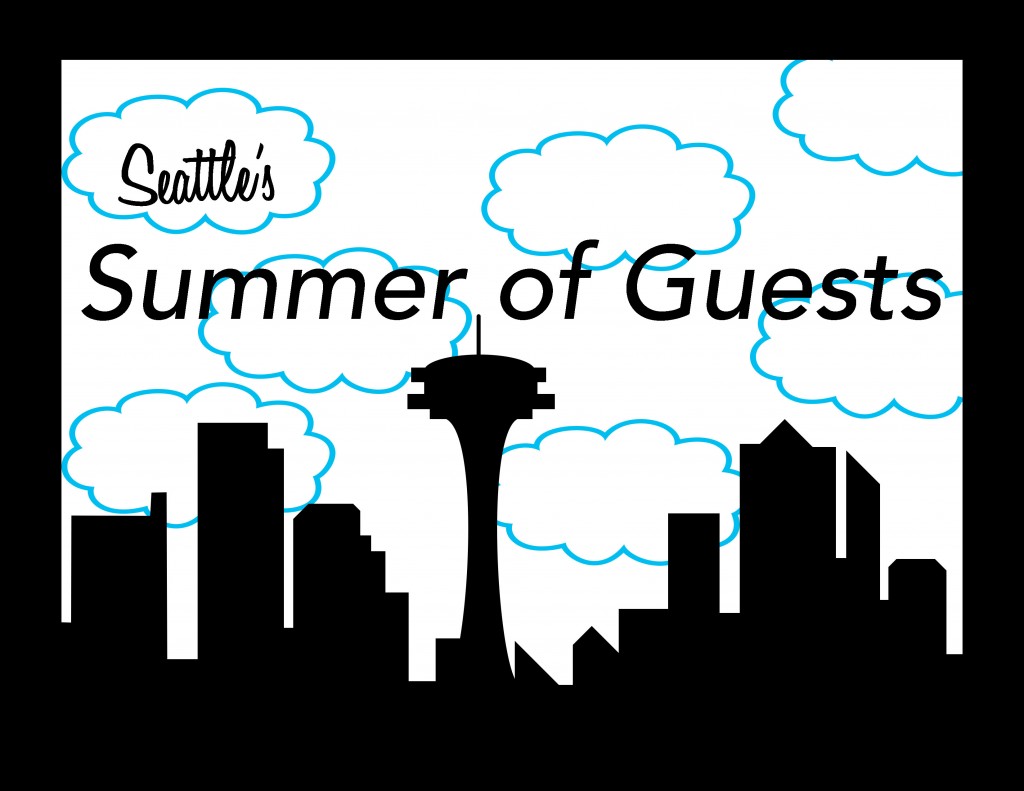 It's summer in Seattle which can only mean one thing: bring on the guests! When all of your family and friends live on the East Coast – also known as the sticky, humid coast – the Pacific NW can provide a more than welcome summer reprieve, not to mention there are some pretty great people here to see 😉
Total, we have over three weeks of guests this summer – a record for us! It can be easy to fall into your own routine after you live in one place for a few years and you might forget what it's like to be a visiter. So, what do you do with your friends and family when they come to visit?
Here's how with my list of top things to do in Seattle with guests:
Discover something new: Whether it's a food tour of Pike's Place market, a tantalizing walk through Theo's Chocolates, or up in the trees at the Treehouse Master's headquarters, a guided tour can show even the most settled Seattle native that there's always something new to see and learn. You could even take a class, like Issaquah's Art by Fire's glass-blowing class, where you'll not only learn something new, your guests will take home a one-of-a-kind souvenir!
Get high: I mean off the ground, not the other way (even though that's technically legal here). Seattle has the most beautiful backdrop I've ever seen and what better way to see it than from high up. From the top of the Space Needle (or the cheaper and taller Columbia Tower), to a lookout on a surrounding mountain (the "Issaquah Alps" offer great views of the Snoqualmie Valley), to up in the air on a scenic flight by seaplane, take your guests breaths away (along with your own) every time.
Head out of town: Seattle has a lot to see, but what about all of the great day trips? Especially great for returning visitors! What's on our list this summer? Bainbridge and Whidbey islands are a short ferry ride away, Mt. Rainier is famous for it's summer wildflowers and Leavenworth & Wenatchee are full of outdoor adventure and yummy wine.
Attend an event:  Summer food and music festivals, outdoor concerts, theatre performances, and even farmer's markets are a great way to get any visitor out among the locals. This summer, I'm looking forward to taking my parents to see Ringo Starr on the lawn of Chateau Ste. Michelle and seeing The Book of Mormon with my in-laws at the Paramount!
Show off the local flavor: Eat, drink, and eat some more of the best food the city has to offer. Seattle is well-known for seafood, so we always plan at least one big seafood dinner with guests. We also just like to take guests to our favorite restaurants like The Pink Door and The Tin Table, not to mention I'm always willing to show off all of the wineries and breweries that call Washington home, like Patterson Cellars and Seapine Brewing Company. Finally, take guests to those little, quirky joints that make your town unique. For us, that means taking my folks to Issaquah's own Triple XXX for a greasy burger and a big mug of ol' fashioned root beer. Seriously, check it out, it's quirky and dang good!
Take a hike: To me, the term "hike" can sometimes sound scary, like a 10-mile glute-burning, CamelBak drinking, hot and sweaty trek. Even though the Seattle region has its share of mountains, there are plenty of hikes (aka scenic walks) that are far from arduous. From flat paved paths to rocky uphill climbs, there's a perfect hike for all of your guests. You can identify which hikes are best for you by using the Washington Trails Association Hiking Guide where you can filter hikes by mileage, difficulty level and trail attractions, and Tmber.com often features a narrated video of the actual trail so you can get a real sense of how tricky or picturesque it may be.
Although I called out many Seattle-specific things to do and see with guests, you can apply all of these activities to any city, anywhere! Basically, entertaining out-of-town guests this summer doesn't have to be the same ol' museums and cheesy attractions that trap all the other tourists. You're a local, give your friends and family the local experience and show off all your home has to offer. Who knows, maybe you'll even see, learn or do something new along the way!