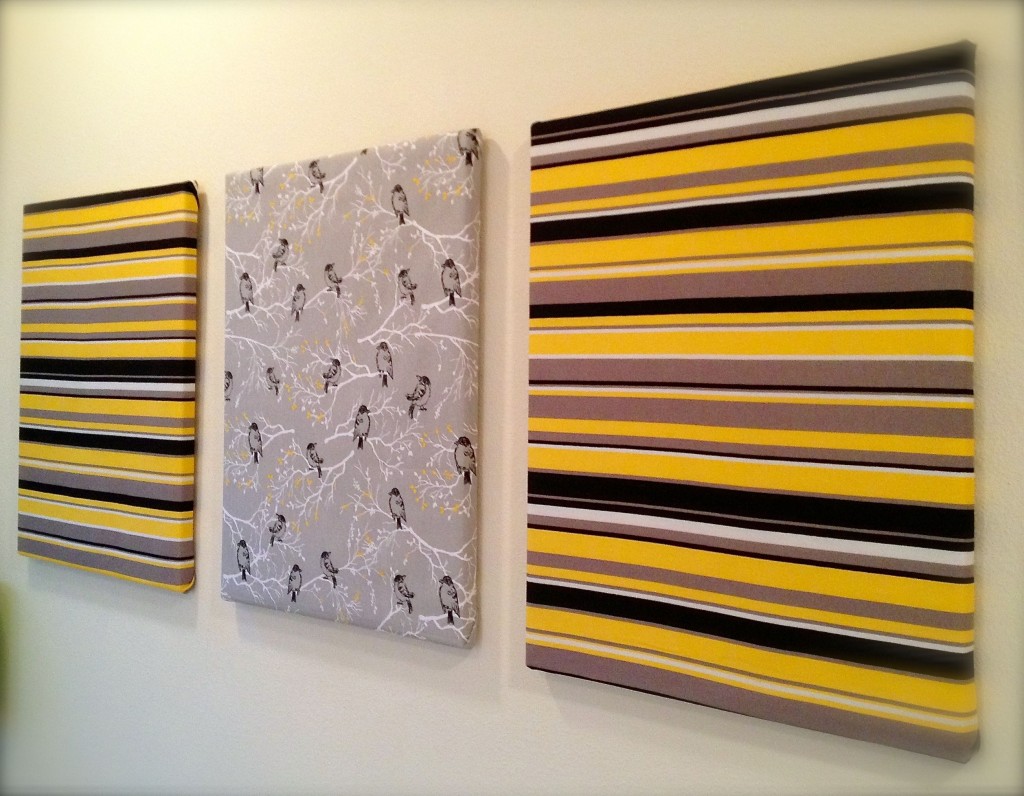 Even after a year in our first house, we're still slow to "make it our own" by getting things up on the walls.  I think the downstairs is done, so I looked upstairs for my next craft project. I have a writing nook with a desk and chair underneath a window adjacent to a fairly large blank, colorless wall in need of some love.
Enter Pinterest. I found a project turning plain canvases and some fabric into bold fabric wall art. One minute I'm watching a how-to video, the next minute I'm roaming around JoAnn Fabrics, my eyes glazed over. By the end of the day, voila, fabric wall art, as simple as that!
What you'll need to make your easy fabric wall art:
plain wooden-framed canvases
fabric
scissors
staple gun (I used 1/4″ heavy duty staples)
eye protection (safety first, people)
Directions:
1) I purchased three canvases at Michaels, 16″ x 20″. Canvas can get pricey, so I purchased the most basic quality. I purchased 2 yards of fabric total to cover the canvases. You want enough fabric so you can wrap the edges of the frames. Here are the patterns I picked:
2) Measure and cut the fabric you need for each canvas. Iron the cut pieces of fabric to get out all the wrinkles.
3) Place the fabric pattern side down with the canvas frame on top, wooden frame facing up. Make sure there is enough fabric so you can wrap each edge, just like the manufacturer already did with the canvas over the frame.
4) Safety goggles on now, please! (Or, if you're like me, you won't know where your husband put the safety goggles so you'll resort to some sunglasses.) Wrap one edge of the fabric over the canvas frame and put a staple every few inches across to secure it to the frame. Make sure the edge is even and does not pucker.
5) Repeat the stapling procedure for the opposite side of the frame so that the fabric is evenly stretched across the frame.
6) Repeat with the remaining two sides of the frame.
7) Now for the corners! It's best to watch the video for this, but in my own words, it's similar to how you wrap a gift. Put two staples in each corner.
Turn over your canvas. It looks amazing, right? Now repeat for the rest of your canvases. How easy was that? What else can you staple? You're a serious pro!